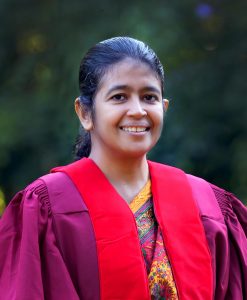 It is my pleasure to provide a message to the website of the Centre for Quality Assurance (CQA) of University of Sri Jayewardenepura (USJ). I had the privilege of serving as the founding director of CQA (formally known as the Internal Quality Assurance Unit) of the University from January 2014 to March 2022.
The concept of quality in a university is multi-dimensional and encompasses its three inter-connected functions – education, research and scholarship, and community services. Hence, quality assurance is considered as the means through which a university can guarantee with confidence that the quality of education provision and the standards of awards are being maintained and enhanced to the satisfaction of its stakeholders and society at large.
In this respect, the CQA has a pivotal role to play as the apex body responsible for quality assurance in a university. It is responsible to develop the strategies and the mechanisms for quality assurance in accordance with the National Quality Assurance Framework of Sri Lanka and the mission of a university. In addition, the CQA should provide oversight on the quality assurance activities of a university covering all its institutes, faculties, departments, and units. In performing these functions, the CAQ is expected to maintain a proper link among the academic, academic support, and administrative divisions of a university.
Quality in higher education is not a static concept. It is evolving and requires continuous improvement through both internal and external quality assurance mechanisms. However, the primary responsibility of quality assurance lies with a university through its CQA. Hence, the CQA has a vital role to play in improving the quality of education, research and scholarship, and community services of a university.
I am proud to say that the CQA of USJ has always been committed to perform the intended role and that it has the capacity to become a trendsetter in quality assurance in the Sri Lankan university system.
With best wishes!
Senior Prof. Samanthi Senaratne PhD
Founding Director, Centre for Quality Assurance (CQA)
University of Sri Jayewardenepura